12x50 Monoculars Anti-Fog High-Power Single-Lens Telescope with Phone Holder & Tripod BAK4 Prism
&FREE Shipping to Australia
Buy K&F Concept 12x50 monoculars anti-fog high-power single-lens telescope with phone holder & tripod bak4 prism online, A$45.99 free shipping to Australia.

KF33.021

SKU:

KF33.021

45.99

https://www.kentfaith.com.au/GW01.0234_waterproof-and-anti-fog-monoculars-12x50-high-power-high-power-single-lens-telescope-with-smartphone-holder-and-tripod-bak4-prism-suitable-for-wild-animals-hunting-camping-trip-wild-animals
Features
* [12X50 HD high-power monoculars] Provides 12 times magnification, the objective lens is up to 50 mm in diameter, and the best viewing distance is 96m/1000m, providing clear and bright images and different views. It is very suitable for bird watching, hunting, hiking, camping, traveling, wildlife, scenery, etc.
* [High contrast and resolution image] The zoom telescope is equipped with BAK-4 prism and full multi-coated (FMC) lens to ensure excellent light transmittance and brightness. The light transmittance reaches 99.5%. With low-brightness night vision function, it can help you see things in low light (you can't see anything in complete darkness), providing you with an amazing viewing experience. The adjustable eye mask also allows you to rotate up and down easily and quickly, allowing you to get the best viewing angle even when wearing glasses.
* [Waterproof, anti-fog, dustproof, shockproof] Nitrogen-filled and waterproof, this monocular binoculars built-in lens dust cover can prevent the lens from being affected by dust/moisture/debris, ensuring that you see all clear details. Its rubber surface is impact resistant, protecting it from drops and falls, and durable external protection enables it to withstand harsh weather conditions.
* Equipped with a smart phone holder, suitable for almost all other smart phones on the market. Easy to install, provide high-definition images or videos to share with friends.
Shipping
&FREE Shipping to Australia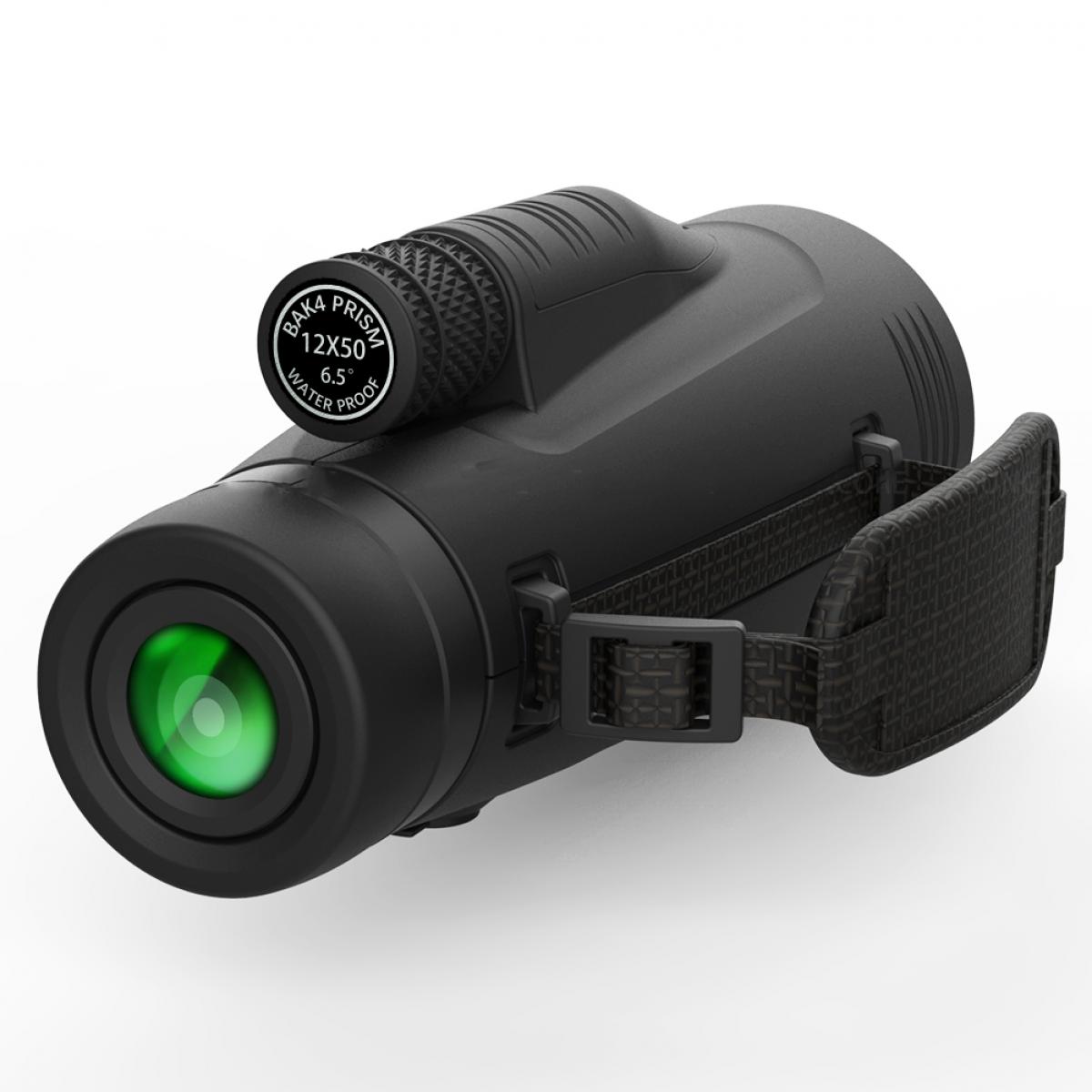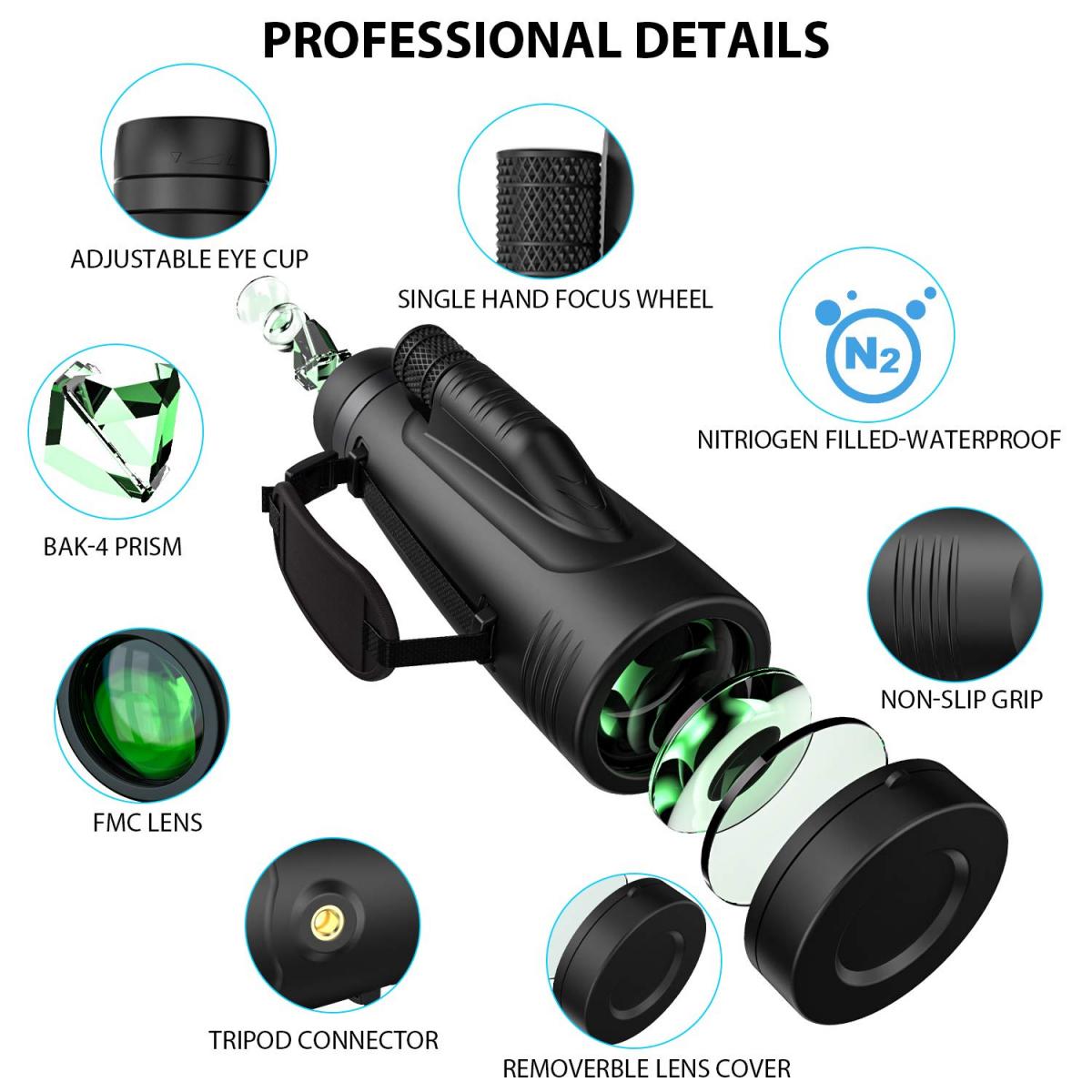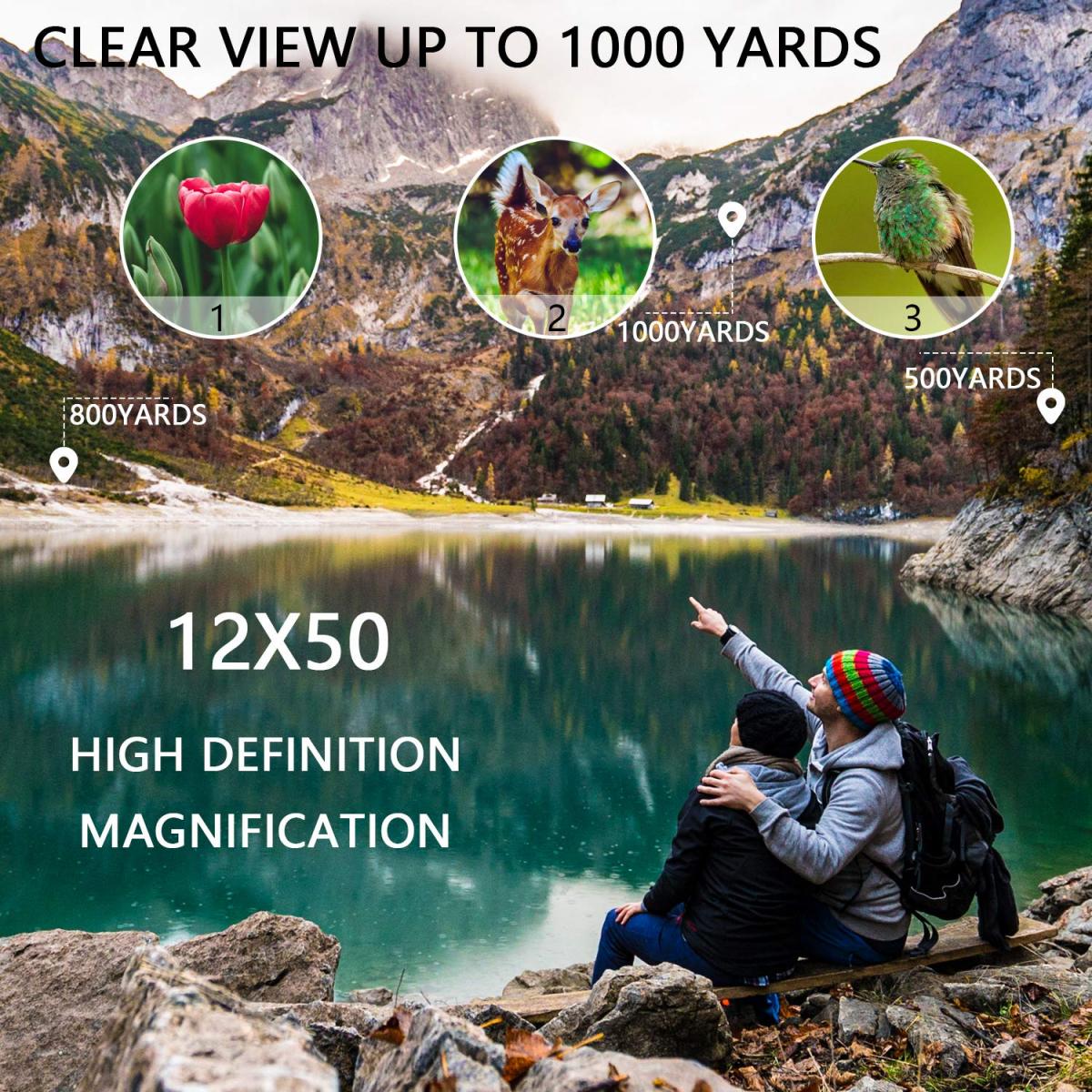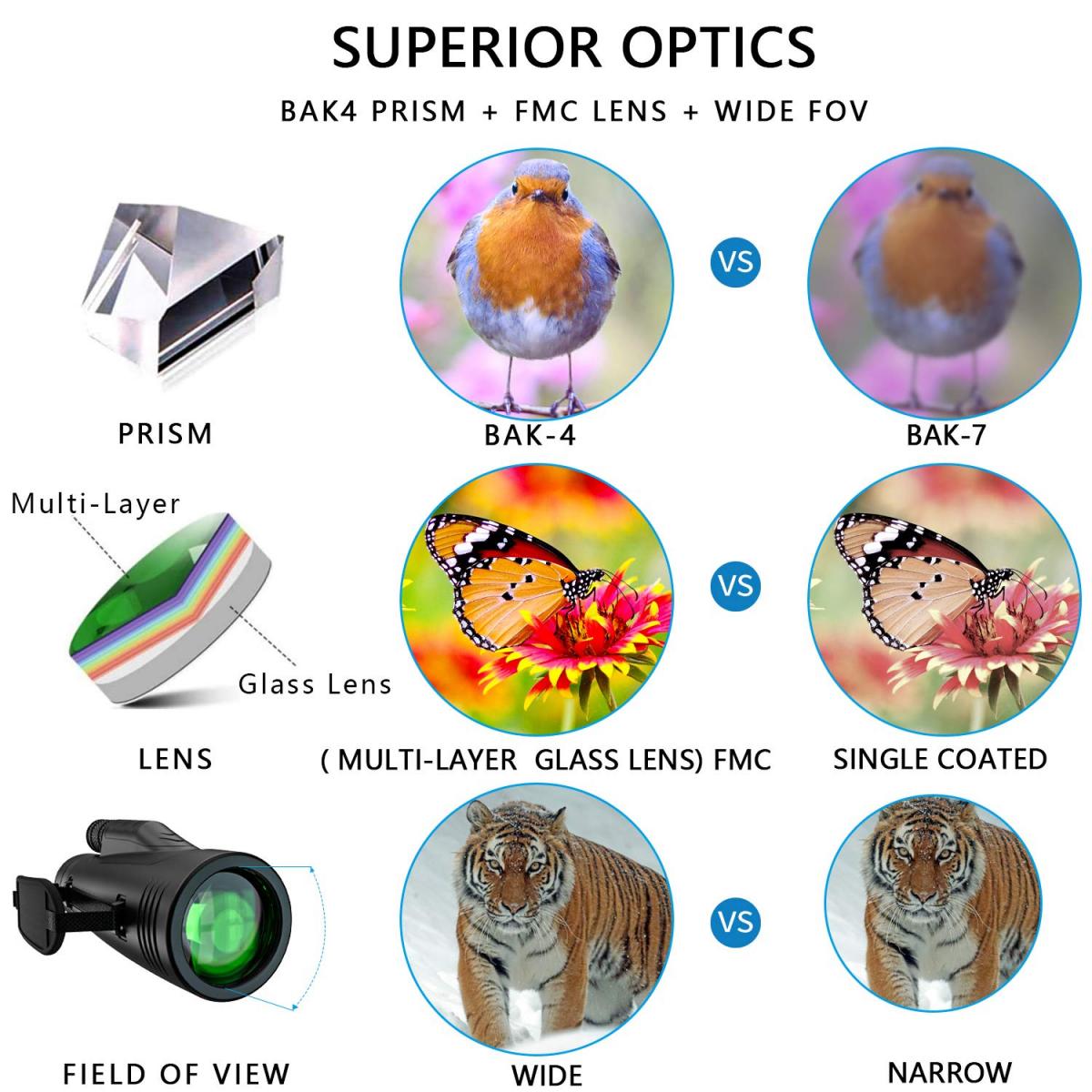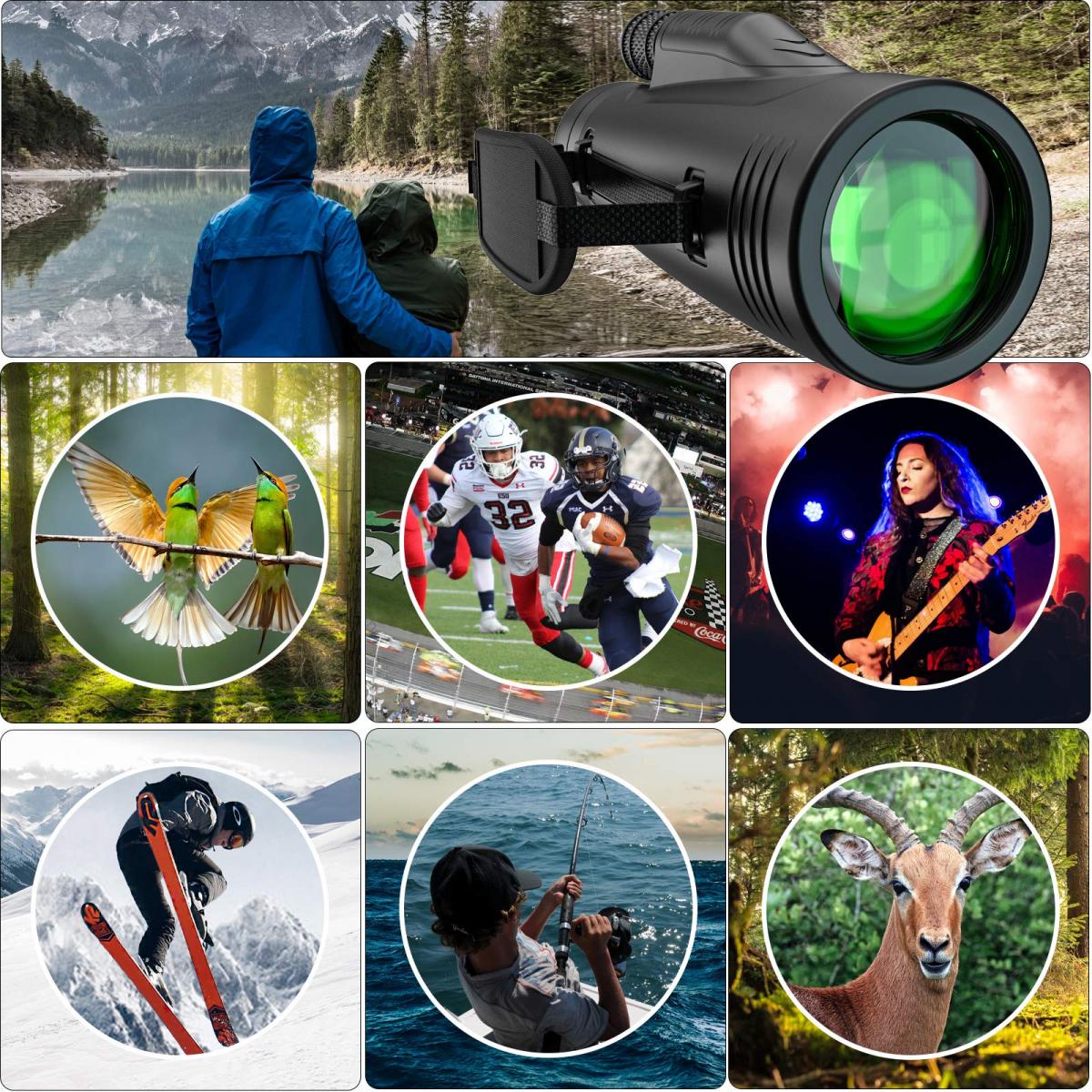 | | |
| --- | --- |
| model | M26 |
| colour | black |
| Material | PVC |
| Lens material | BAK-4 |
| Magnification | 12 times |
| Objective lens aperture | 50 mm |
| Exit pupil diameter | 5 mm |
| Exit pupil distance | 14.2 mm |
| Field of view | 6.5 |
| Field of view | 96m/1000m |
| Product Size | 15.7×6.2cm |
| Package dimensions | 17.5*9.5*8CM |
| product weight | 480g |
| Package weight | 852g |
| packing list | Monocular (PE bag)*1, Lanyard (PE bag)*1, Mirror cloth (PE bag)*1, Storage bag*1, Mobile phone holder*1, Mini tripod*1, Instruction manual*1 |
Great product and great customer services.
I'm very happy with this product . I had a problem with the adapter included with monocular. I emailed to customer services and they responded very quickly . With a great solution. Alan help me to give a great solution. He replaced it and also send me the universal adapter for free of charge . Now I got it and I took beautiful pictures. This product is amaizing . I recommended it 100%
15/08/2017
Great product that I would recommend to others
After reading several monoculars reviews, I decided to go with a more expensive product because of the reviews and I wanted a much better quality product.Out of the box, this monocular and included smartphone adapter is very easy to figure out how to use (but instructions were included just in case).The only thing I would suggest that the company adds to this product is an attachment string/cord for the occular (eyepiece) lens cover so it doesn't get lost. The objective lens cover is connected to the monocular.I am happy with this product so far and can't wait to have the opportunity to really use it.I attached 4 pictures to show just how it worked out for me. Keep in mind that these pictures were immediately taken after I opened the product to use for the first time. So I'm sure after practice, the results will be even better.(Photos taken with an iPhone 7)First Picture: Cell phone only with screen zoomed all the way out (phone default setting).Second Picture: Cell phone attached to the monocular with phone screen zoomed all the way out.Third Picture: Cell phone only with screen zoomed all the way in.Fourth Picture: Cell phone attached to monocular with cell phone screen zoomed all the way in.
25/07/2017
Nice monocular worth looking at
Received today, after having to return another monocular that was defective, and at a lower price. The defect on the other monocular was a PLASTIC 1/4 20 tripod mount... Buyer-be-wear! This 12X50 monocular is comparable to others listed here, but I can assure you that the tripod mount socket is 1/4 20 BRASS! As it should be. Attached a picture taken with the monocular and my iPhone 7.
18/03/2018
A cool little gadget!
I really like this thing. Very cool. It works well for spotting wildlife and I have been able to take some pretty cool photos as well. I would definitely recommend it. This red tailed hawk was captured from about 70 yards away. :)
19/07/2017
Super Helpful!
I bought this because of the reviews and the price. I concur!! I find it easier to use then binoculars and all by itself it is helpful for picking out detail on birds, in my case, but when you add a snap from your iPhone or other phone camera, and zoom in again after you take the pic, well it's quite cool! The lens is great quality for the price. It's lightweight, small and easy to focus with one hand. Overall I'm very pleased. The first panel in the photo is the regular shot from an iPhone 6s the second panel is the same shot through the scope and the third is after I zoomed in and cropped the picture from the scope. No filters or post processing.
29/06/2017
Awesome monocular!!!
Great scope. User friendly.
25/04/2021
Good monocular - highly recommended.
Great quality and has many useful accessories. Really cool for taking pictures via smartphone. It's an excellent monocular for going out and about.
25/04/2021
great monocluars
Easy to hold and to adjust the magnification.
24/04/2021
It is a great product for the price
1) Could improve hand hold2) need line tied to lens cover3) camera bracket connection could be improved
21/04/2021
There are no faqs for this product.